At Clear Choice Custom LASIK Center, we are proud to have some of the best LASIK eye surgeons on our team. Our team is repeatedly recognized among the best doctors in Cleveland and strives to give you the best care possible from the moment you walk through the doors when you have your surgery and beyond with excellent post-operative care. The ophthalmologists and optometrists at ClearChoice strive for greatness. Here's a little more info on our eye doctors:
Dr. William Wiley
---
Dr. Wiley is ClearChoice's most veteran ophthalmologist and has performed more than 40,000 eye surgeries. He is currently the medical director at ClearChoice, the Cleveland Eye Clinic, and Toledo LASIK Center. Dr. Wiley is an eye doctor who is at the cutting edge of ophthalmology. He has a research team that actively participates in several clinical trials. He can provide patients with access to cutting-edge treatments not yet available to the general public through clinical trials he conducts. Dr. Wiley is nationally and internationally recognized for his educational lectures and teaching efforts and also assists the faculty at Case Western University Hospital. He also been listed for 5 consecutive years in Cleveland Magazine's "Top Doctor" edition and is recognized as a National Keratoconus Foundation Top Doctor.
Dr. Shamik Bafna
---
Dr.
Shamik Bafna has been a member of the ClearChoice vision team for over a decade, after serving for ten years as a surgeon at Arnett Clinic in Lafayette, IN. Like all the ClearChoice eye doctors, Dr. Shamik Bafna has a wealth of vision correction credentials and a sincere passion for helping people. He also underwent LASIK surgery himself. Dr. Shamik Bafna is certified by the American Board of Ophthalmology and is a National Board of Medical Examiners Diplomat. He has also been recognized as a top doctor by Castle Connolly. Being an eye doctor at ClearChoice fulfills two of his greatest interests – working with the precision of some of the latest technology, and bringing people the joy of enhanced vision.
Learn More About Dr. Shamik Bafna
Dr. Jeffrey Augustine
---
Dr. Augustine is an optometrist that knew early on during college that there was a bright future in refractive surgery, so he decided to do a fellowship at the Newman Eye Institute in Florida and focused on optometric refractive surgery clinical management. Prior to LASIK being approved in the United States, Dr. Augustine stayed ahead of the curve and traveled to China to further increase his knowledge in this field. He has devoted his career to the perioperative optometric management of refractive surgery patients. He has managed thousands of patients over two decades and written iconic articles on the optometric management of the refractive surgery patient. Dr. Augustine continues to lecture throughout the country and is involved in many clinical research projects.
Learn More About Dr. Augustine
Dr. Kathleen Jee
---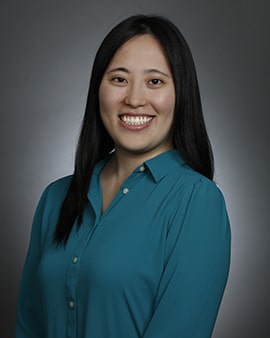 Dr. Kathleen Jee completed her ophthalmology residency at the Johns Hopkins University Wilmer Eye Institute, widely recognized as one of the top programs in the country. Dr. Jee has a keen interest in developing new ways to enhance patient care and outcomes. During medical school at Johns Hopkins, she found herself innately drawn to ophthalmology and the profound manner in which patients' quality of life can be improved. Her research investigating a novel therapeutic target for ischemic retinopathies led to multiple peer-reviewed publications, presentations at national conferences, and a first-place resident research award.
---
Every surgeon on our staff is well-educated, trained, and practiced in performing corrective eye surgery. If you're searching for top-notch eye doctors near you with a professional staff of more than 100 who put patient care and comfort first, you've found it here at Clear Choice Custom LASIK Center.