Home » Locations »
Brecksville Eye Clinic
Experienced eye specialists. Cutting-edge technology. A staff that makes you feel welcomed. That's what you'll find at our Brecksville, OH eye clinic.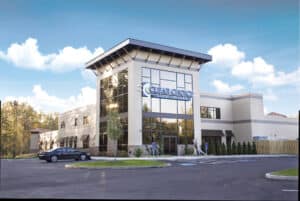 Whatever vision issue you face, our team is prepared to help. We work with every patient to find them a procedure or treatment they need. Schedule an in-office consultation to get started.
Not sure if you are a LASIK candidate? We can help.
Why Brecksville Residents Choose Us For LASIK
Experienced ophthalmologists in Brecksville, OH
Latest cutting edge laser vision technology
Commitment to patient satisfaction
These are the reasons why Clear Choice Custom LASIK Centers have been the number one choice for laser corrective surgery for thousands of Brecksville LASIK patients who now enjoy clear vision throughout the Cleveland area.
Types of Laser Eye Surgery We Provide In The Greater Cleveland Area
Whether you want to restore your vision through LASIK or another laser eye surgery, we'll work with you to find the right solution. During your free consultation, we'll discuss the type of procedure you may need. Learn more about our available options below. 
How To Qualify for LASIK in Brecksville
Millions of people have already experienced the life-changing effects of LASIK. Do you qualify to join them? The easiest way to find out is through a consultation. It's free and gives our specialist a chance to evaluate your vision to see if you're a candidate for LASIK in Brecksville. 
Schedule an in-office consultation
What To Expect
During your consultation, our specialists will run a series of tests to evaluate your vision. They will test your vision stability, cornea shape, and other factors that determine your candidacy. If you're a candidate, we'll discuss options with you.
Not a candidate?
Unfortunately, some patients aren't right for LASIK. But don't be discouraged—we offer several alternatives, including  PRK/ASA, SMILE, Visian ICL, corneal cross-linking, and IOLs.
LASIK Procedure
Cleveland patients can't believe how quickly their LASIK surgery was completed. That's because LASIK takes about 15 min to complete for both eyes. After surgery, most patients can resume normal activities, including driving.   
Benefits
Visual Clarity
What's the first thing you'll do when you have clear vision again? Think about it as you schedule your free consultation. 
Goodbye Glasses & Contacts
No more forgetting your glasses or leaving contact solutions behind on a trip. Move throughout your day with burden-free vision. 
Confidence Boost
Not satisfied with the way you look in glasses? LASIK is the confidence-boosting solution you've been searching for. 
Risk Factors
No surgery is without risk. We thoroughly evaluate each patient's eyes to ensure they receive the right surgery. Ask plenty of questions during your consultation to get some extra peace of mind.
Cost Factors
We're committed to helping you achieve your clearest vision. Let's find a way to get you the surgery you need. Please see our financing options here.
Let's See What Our Patients Have To Say
Schedule A LASIK Consultation
Ready to experience life with clear vision? Don't wait any longer—schedule a consultation at our Brecksville eye clinic today!
Directions To Our Clear Choice Laser Eye Center in Brecksville
Clear Choice Custom LASIK Center
7001 S. Edgerton Rd; Suite D
Brecksville, OH 44141
Phone: 440-740-0400
Hours
Monday 12pM–7:00PM
Tuesday 8AM–10:30PM
Wednesday 8AM–10:30PM
Thursday 12PM–7:00PM
Friday 8AM–3:00PM
Saturday 8AM–1:00PM
Sunday 10AM–6:30PM