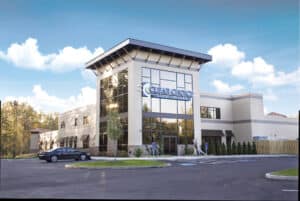 The Brecksville Clear Choice LASIK location gives patients the opportunity to have the total LASIK experience.  Free LASIK consultations, pre-operative exams, LASIK procedures, and post-operative exams are available in Brecksville.
Surgical Eye Center of Brecksvill, OH
7001 S. Edgerton Rd; Suite D
Brecksville, OH 44141
Hours
Monday 8AM–10:30PM
Tuesday 8AM–10:30PM
Wednesday 8AM–10:30PM
Thursday 8AM–10:30PM
Friday 8AM–8PM
Saturday 8AM–6:30PM
Sunday 10AM–6:30PM
Brecksville Corrective Eye Care
The Clear Choice doctors offer LASIK, PRK, SMILE, KAMRA, and Corneal Cross-linking at the Brecksville location.  Annual eye examinations and enhancement evaluations are available at this location as well.  The Brecksville location offers all of the luxury and comfort of a resort including a fireplace, free Starbucks coffee, complimentary cold drinks, massage chairs, and fresh-baked cookies.
At Clear Choice Laser, we pride ourselves on offering the very best LASIK with several convenient Ohio locations including our LASIK Brecksville Ohio office. If you're not close to our downtown Cleveland location, perhaps our Brecksville location would be more convenient. Finding the perfect LASIK surgeon can be daunting, but we make it easy, with our team of expert doctors at our LASIK Brecksville Ohio location.
We offer easy online scheduling for a one-on-one consultation with one of our highly experienced and talented LASIK doctors. Ask about our state-of-the-art LASIK technology and facilities! Our doctors are happy to answer any questions you may have, and put any of your concerns that you may have about LASIK to rest.
We are dedicated to providing excellent visual results for our patients' specific needs. Take our online LASIK Self-Test to find out what your ophthalmic needs are.
Take the leap, and take control over your vision! Call our LASIK Brecksville Ohio office to schedule a LASIK consultation today! Two other Ohio locations include downtown Cleveland and Akron.